The Microsoft Ignite 2019 playlist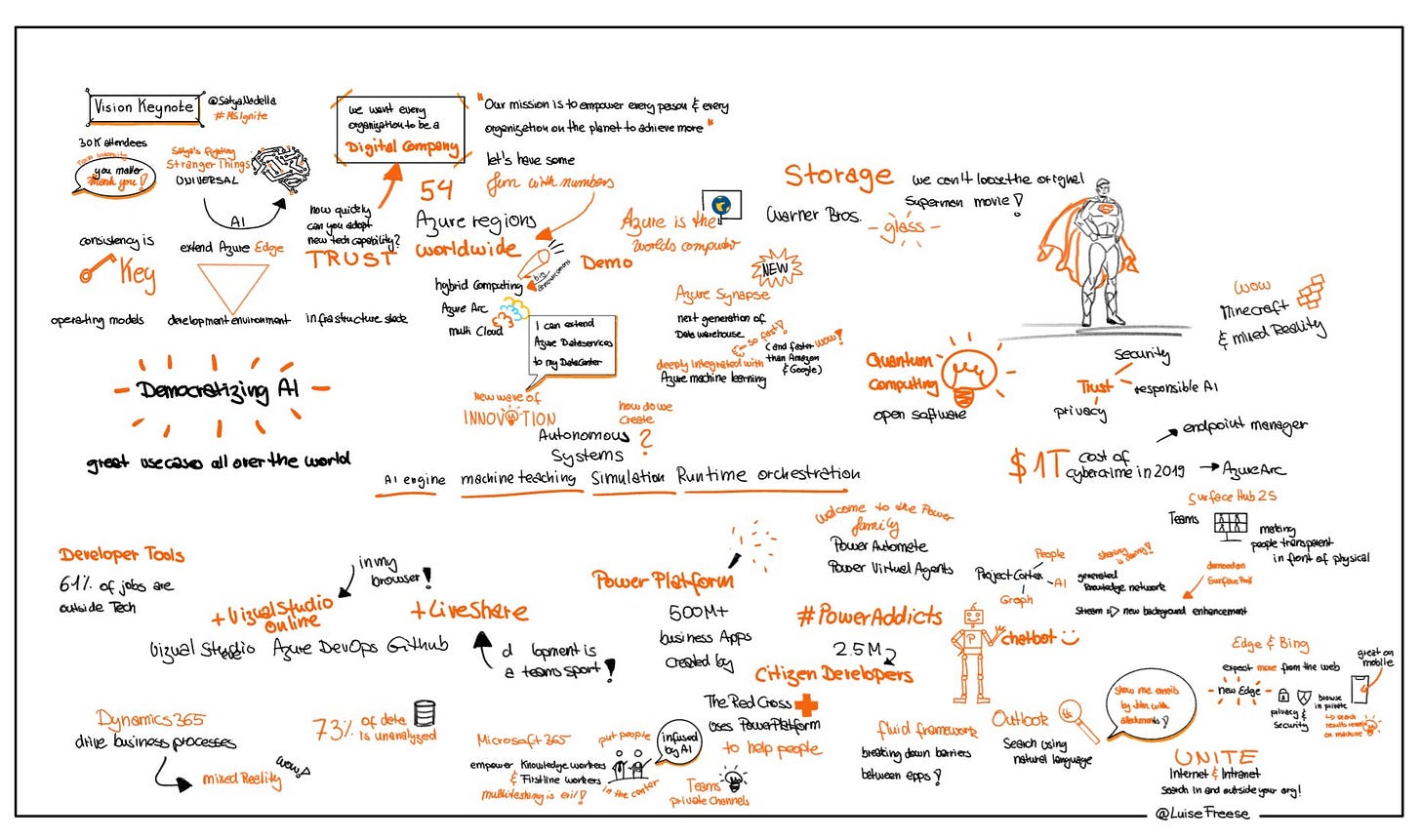 Last week, I was at Microsoft Ignite 2019 in Orlando, FL. With over 25,000 attendees, Microsoft's annual tech conference focused on software development, security, architecture, and IT.
The event was kicked off by Satya Nadella's rather long Vision Keynote (highlights | full video). He also played a bit of Minecraft Earth, the all-new augmented reality game, on the stage – bridging the digital and physical worlds (tweet | video).
This edition of the newsletter, essentially, dives into all the major announcements from the event. There were also things like Visual Studio Online, a redesigned Yammer service, the Microsoft Graph-powered knowledge management service - Project Cortex, and Azure Quantum that brings quantum computing to Microsoft's cloud customers.
Living on the (new) Edge
Just a few months after Microsoft announced the beta version of the new Microsoft Edge, the company released the release candidate of the browser for Windows and macOS with general availability targeting January 15, 2020. The new Edge runs on the same Chromium web engine as Google Chrome for the best-in-class web compatibility and performance.
Microsoft also unveiled a new logo for Microsoft Edge 'designed to capture the waves of innovation' with an intent to move away from the 'blue e' legacy (and negative perception, maybe) of Internet Explorer and the old Edge.
Microsoft Edge is now a cross-platform endeavor for the company, being available on Windows 7 through 10, as well as macOS, Android, and iOS. Microsoft also announced new experiences to Microsoft Search in Bing that would help users save time searching for information inside their company.
A central hub for all things Office
Microsoft unveiled a new Office app for iOS and Android, in preview, that combines the separate versions of Word, Excel, and PowerPoint into a significantly smaller single one.
The Actions section of the app allows you to transfer files from your computer to the phone, convert images into text or tables, scan pictures into PDFs, and scan QR codes. Rob Howard, General Manager - Microsoft 365 Foundations at Microsoft shared that the Actions section will serve as a central hub for Microsoft to showcase new tools and features that the company gradually adds to Word, Excel, and PowerPoint. As the product evolves, it will also include third-party utilities.
If you're interested in trying out the new Office mobile app, you can sign up for the preview on Android here and on TestFlight for iOS here. Mauro Huculak from Windows Central has a comprehensive guide about getting started with the new Office app.
Microsoft's vision for ubiquitous computing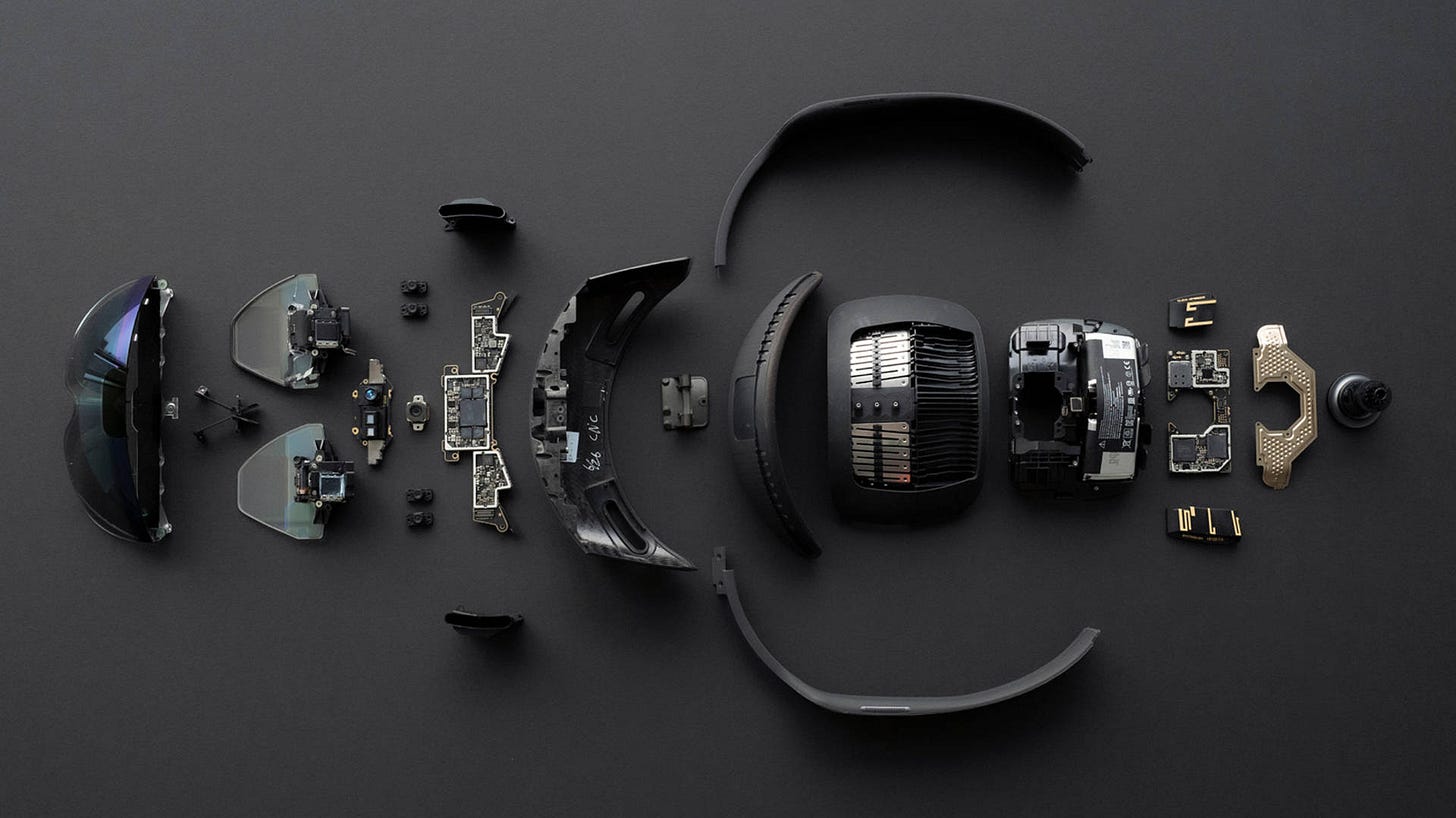 The first Hololens was launched in 2016 and was Microsoft's take on augmented reality - floating holograms in the real world. Now, announced in early 2019, the first Hololens 2 are shipping to customers. For $3,500.
Fast Company's Mark Wilson talked to a cheery Carl Ledbetter, director of design at Microsoft, about their extensive prototyping process and published this exclusive peek into the design of Hololens 2 and the story behind making it.
The sensor-packed holographic computing headset uses AI to displace space and time, creating a mixed reality of people, places and things in order to facilitate one of our most basic human impulses: exchanging knowledge. Microsoft Technical Fellow Alex Kipman said the headset defines the highest watermark of intelligent edge devices – AI-capable technologies that can collect and process data even without a reliable internet connection – and that can then share some or all of that data with the intelligent cloud when connected.
Satya Nadella sat down with Neena Kamath and Charlie Han to talk about how customers in every industry are creating new breakthrough scenarios spanning manufacturing, gaming, retail, healthcare and more.
Here's a video of Julie White, Corporate Vice President – Microsoft Azure, demoing the magic of AI neural TTS and holograms at Microsoft Inspire 2019 earlier this year.
Super-glass!
One of the wow moments of the vision keynote was when Satya Nadella held out a drink coaster-sized piece of regular quartz glass and shared that the piece of glass had the 1978 "Superman" movie stored on the same.
Microsoft collaborated with Warner Bros. to successfully store and retrieve the entire movie as the first proof of concept test for Project Silica, a Microsoft Research project that uses recent discoveries in ultrafast laser optics and artificial intelligence to store data in quartz glass (video).
I sat down with an excited Dr. Ant Rowstron, partner deputy lab director of Microsoft Research Cambridge in the UK to learn more about this fascinating research project.
All your Teams are belong to us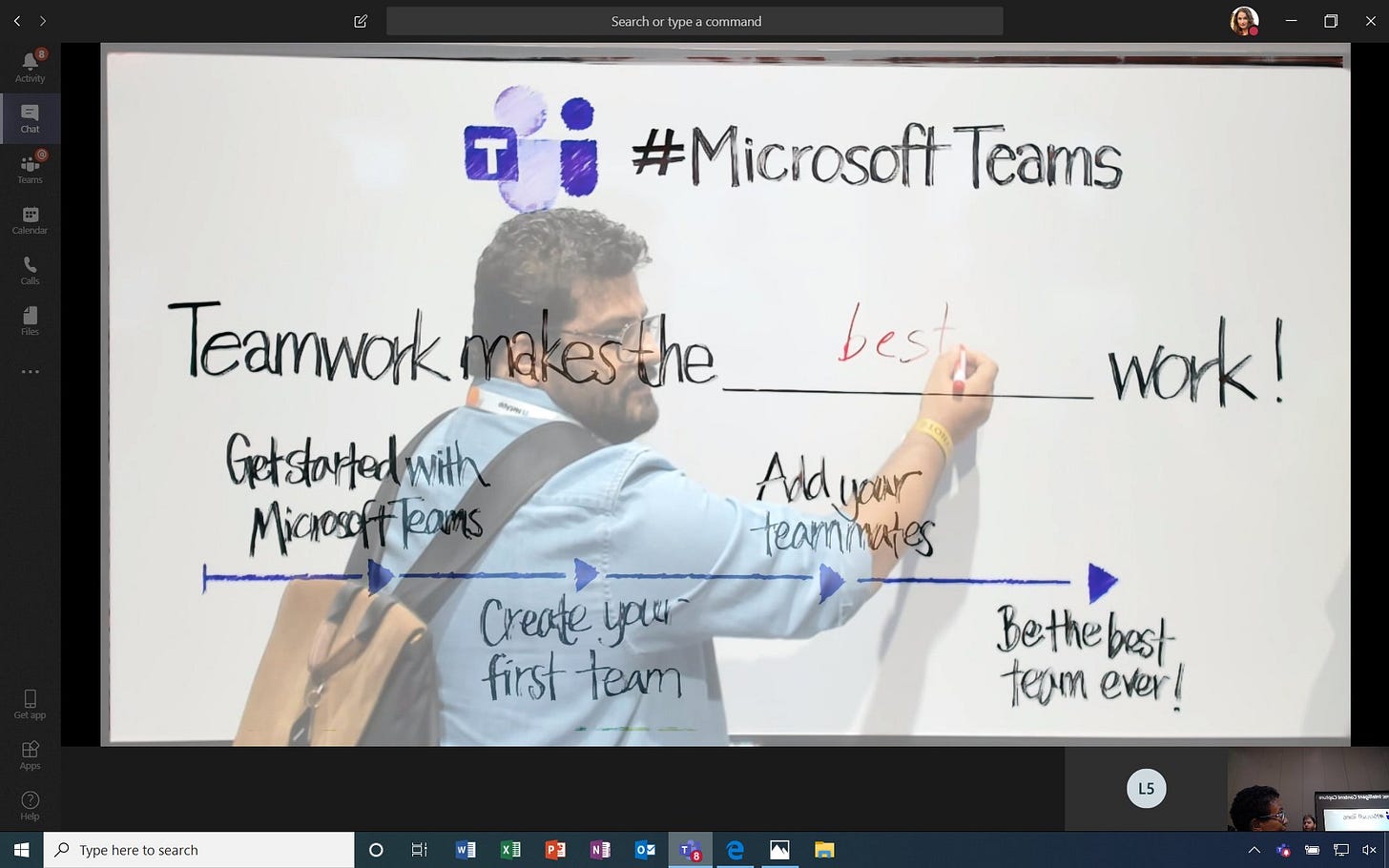 At Ignite, Microsoft announced a ton of new capabilities in Microsoft Teams to enhance collaboration and business processes, including a Teams client for Linux, the new Yammer app for Teams, Live Captions in Teams Meetings, SMS Sign-In for first-line workers, and more.
This blog post by Karan Nigam, Product Marketing – Microsoft Teams, shares details of all these upcoming Teams features.
The show floor at the event also had demoes of several new Microsoft Teams-certified speakerphones with dedicated Teams button for a seamless interaction with Teams.
The Verge's Tom Warren talked to Jared Spataro, corporate vice president of Microsoft 365, to understand the company's vision for Teams and his thoughts on the competition by Slack.
It really does differentiate us vs. Slack, which has started with a very interesting innovation with chat-based workspaces, but we think will not have the breadth and depth that's really required to reinvent what it looks like to work together.
Mary Jo Foley wrote about Microsoft's mission of making meetings better with its new white-glove meeting-room management service - Managed Meeting Rooms. This cloud-based IT management and security monitoring service ensures that Teams meeting rooms are secured, up to date, and proactively monitored for a great in-room experience.
Microsoft's Hybrid 2.0 strategy
Microsoft announced new branding and a new strategy meant to make Azure the place IT pros will manage their edge, on-premises and multi-cloud software and services. Mary Jo Foley demystified the new hybrid announcements on ZDNet.
Azure Arc is a set of technologies that extends Azure management and enables Azure services to run across on-premises, multi-cloud, and edge. It seems to be Microsoft's attempt to answer Amazon with Outposts and Google with Anthos, said Sid Nag, a Gartner Research Vice President.
Microsoft's Azure Chief Technology Officer Mark Russinovich calls Arc as Hybrid 2.0. Azure Stack, introduced in 2017, was the company's Hybrid 1.0 play.
Janakiram MSV wrote in Forbes that Azure Arc is a game-changer for Microsoft and compared to its counterparts in the market, stands out for its unique approach and design.
Lede artwork: Luise Freese, an Office 365 business consultant and a Sketchnote artist
---
---
Picks of the Week
Read
A week before Microsoft Ignite, Satya Nadella spoke to GeekWire coinciding with the publication of the paperback version of his book - Hit Refresh - with a new afterword.
Success is important, but you have to remember that your success has to have come from some sense of purpose.
He went further on several key topics — discussing Microsoft's approach to a growing wave of nationalism around the world, addressing employee concerns about their treatment inside the company, and explaining why Microsoft is betting on a new category of dual-screen devices.
Download
The Microsoft Visio Data Visualizer add-in for Microsoft Excel is now available in public preview to all Office 365 subscribers. You can create impactful diagrams from your data directly within Excel with the add-in.
While the add-in does not require a Visio subscription, Visio subscribers benefit from additional editing capabilities.
The Data Visualizer add-in is available for Excel on Windows and Mac as well as Excel for the web with a work or school account. To get started, search for 'Visio Data Visualizer' in the Office Add-ins Store.
---
If you're reading this, you've probably read or at least skimmed the entire newsletter. Thank you!
Please share your feedback and suggestions - on email (ab@baxiabhishek.info) or on Twitter (@baxiabhishek). Of course, if you spread the word, it will be appreciated.
Till next time,
Abhishek Baxi